Seniors seeking the A+ Scholarship need to turn in their completed A+ log with 50 hours noted by March 31. Letters for those who turned in A+ contracts but have not turned in completed logs will be distributed the next week.
Spring Sports: Baseball tournament at Charleston today and tomorrow has been cancelled. Softball game at Bloomfield today has been cancelled. Softball tournament at Puxico tomorrow has been cancelled.
Career Pathways & Apprenticeship Showcase 9:00am-1:00pm on April 22, 2023 at the SEMO-Sikeston Regional Campus, 2401 N Main, Sikeston. 6th-12th grade students and their families are invited to attend. More information about this event can be found on the attached flyer and at
www.mocollegecareer.org/showcase
.
SEMO Dual Credit/Dual Enrollment/Early College Credit students: April 21st is the deadline to drop a class and not receive a grade. If a student wishes to drop, they will need to submit the drop form prior to 4/21.
SEMO CATTLEMEN'S SCHOLARSHIP APPLICATION in the senior mailboxes. Completed application must be mailed to Millersville, MO by April 1. There is a portion for the counselor to complete. Scholarship is for seniors entering college in the current year. Picture of applicant will need to be included.
Make Up Games: Softball- Advance @ Delta 4/27 at 4:30 Baseball- Delta @ St. Vincent 4/3 @ 4:30
BASEBALL: Today's game at St. Vincent has been cancelled. We are working on a make up date.
SOFTBALL: Today's game at Greenville has been cancelled. We are working on a make up date.
Thank you for all the calls and messages about the incident at the bus stop this morning. The car has been identified. Thankfully this was a situation where a parent was honestly just trying to do a nice thing. Everybody is ok, and again, we appreciate everybody helping us get to the bottom of this situation.
www.AutomotiveScholarships.com
has hundreds of scholarships to be awarded for the 2023-2024 academic year to students studying engineering, accounting, business, IT/Cybersecurity or other careers in the automotive field. Graduating seniors & full-time post-secondary students welcome to apply. Deadline March 31
UPCOMING SCHOLARSHIP DEADLINES -McDonald's Agriculture Awards-March 22 -4H Youth in Action Awards-March 27 -Three Rivers Achievement Scholarship-notify Mrs. Elfrink by March 29 -Southeast Missouri Central Labor Council-March 31 -National Stars & Stripes Museum/Library Scholarship -March 31
Three Rivers Achievement Scholarship begins with Fall 2023 semester & may be used for 4 consecutive semesters (excluding summer). It is non-transferable. Eligible seniors must rank in the top 25% of the graduation class or score at least a 21 composite on the ACT. To apply, seniors notify Mrs. Elfrink by 3/29/23.
The 3rd Annual Delta Booster Club Golf Tournament is coming up on August 4! Get your team ready for a great day of food and fun to help benefit our Booster Club. See you there on August 4!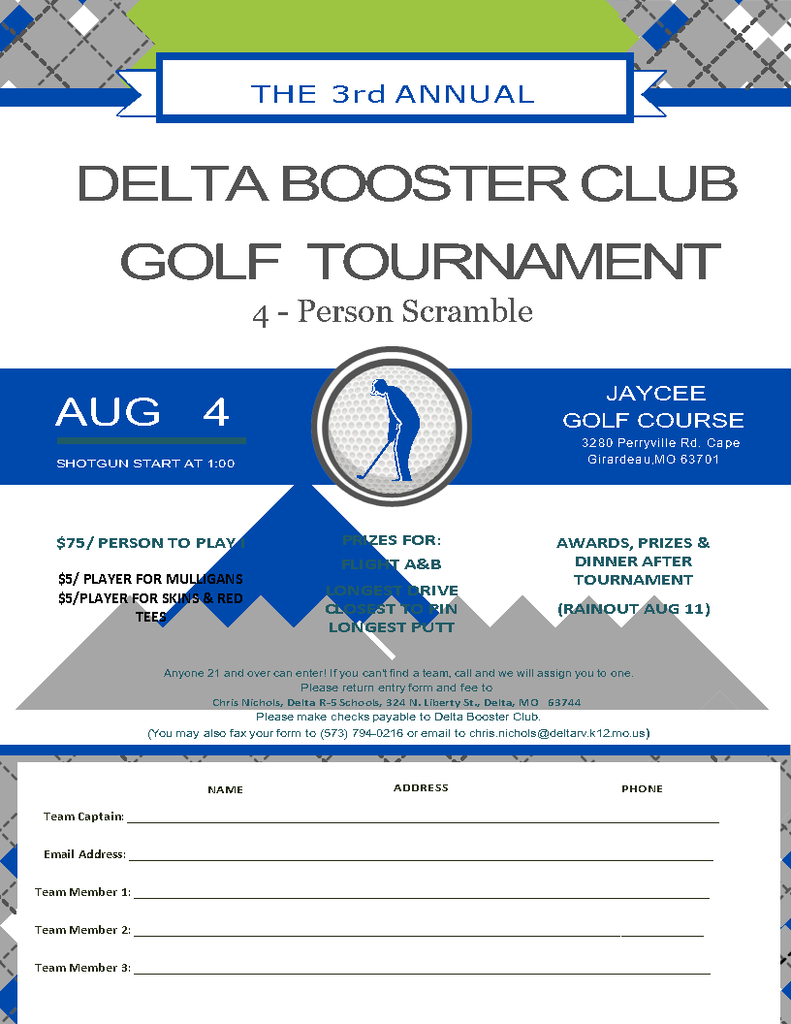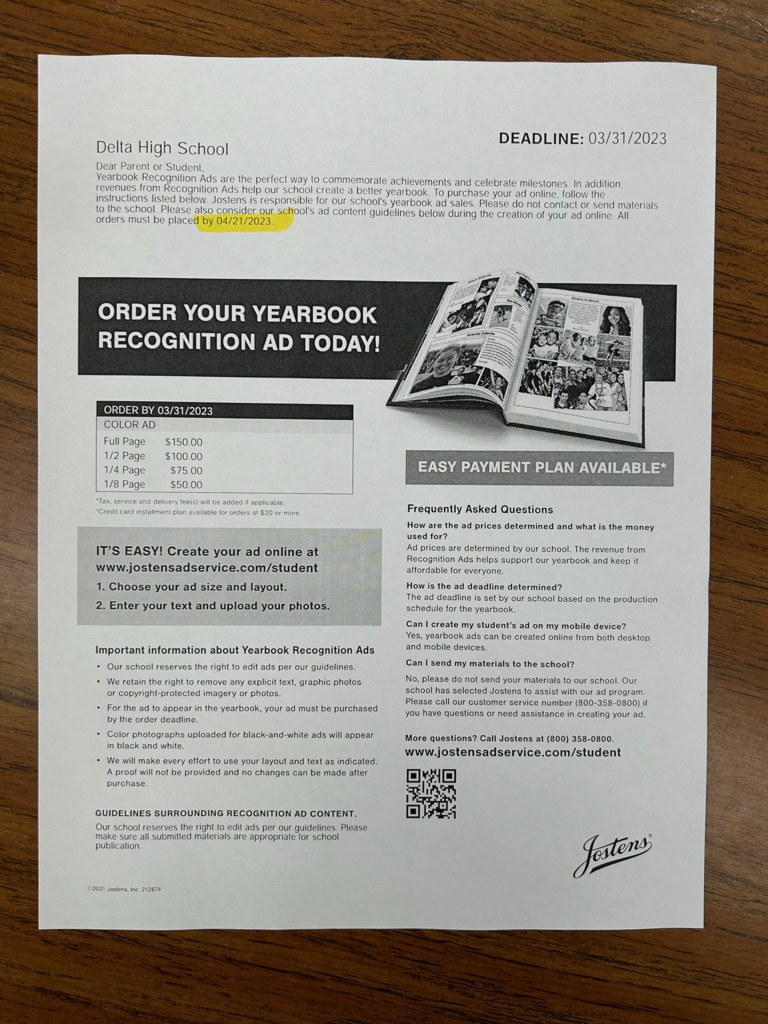 BASEBALL: The Delta Round Robin tomorrow, 3/18, has been cancelled.
SOFTBALL: Today's game against Advance has been cancelled. We are working on a make up date.
Charleston Baseball Tournament: Friday 3/24/23 Delta vs Advance 4 PM Saturday 3/25/23 Perryville vs Delta 2:30 PM Delta vs Charleston 4:45 PM